Are you looking for a Church family and a place to call home? We believe that the Kingdom of God is a mixture of every tribe and tongue. We encourage people to come as they are when they Worship with us. Our heart is to see every person who attends our services to become what God has destined them to be and to live a life of revival.
WORSHIP
Experience the Presence of God! Worship at The River is dynamic and Spirit led. While attending you will learn the importance of worship and the joy that comes with worshiping the Father in Spirit and in Truth.
THE WORD
Sermons are prepared under much prayer and study of the Bible. The River is where you can always expect to find powerful Spirit filled and inspired preaching and teaching of the Word of God. Whether you are newly saved, or have spent a lifetime in Church, we believe God will speak to you every Sunday while sitting under the Word.
THE SPIRIT
We base our Church off of the Book of Acts. We give the Holy Spirit preeminence in our services and believe that God is still moving in the Earth today with miracles, signs and wonders. We regularly pray for the sick, have miracle services and Book of Acts style meetings.
Interested in learning more? Check out our "What We Believe" page.
Our Pastors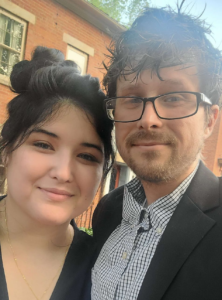 Pastor Zach and Edie Weber